Making Nutritional Improvements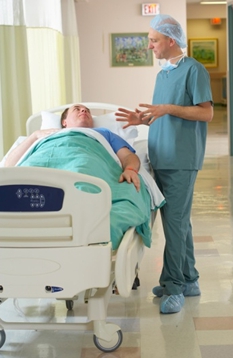 As a caregiver, you are in a unique position to notice if the person you are caring for has medical or physical problems that interfere with eating. You can take three steps immediately to enhance and help prevent nutritionally based threats to health.
Increase nutrient and calorie intake
Supplement the diet
Modify food consistency
Increasing Nutrient and Calorie Intake
Offer smaller meals more frequently.
Try to serve the most nutritious of the person's favorite foods as frequently as you can.
Include ProSure as a snack.
Add milk powder to soups, puddings, casseroles and milkshake-type drinks.
Add cheese or olive oil or butter/margarine to soups or use them to top vegetables, rice or eggs.
Supplementing the Diet
Substitute high calorie, high protein food and drink for no calorie or convenient calorie foods.
Instead of tea and toast for breakfast or snacks, offer milk with bread and butter or cooked cereal with milk or cream and fruit, or sliced cheese and crackers.
For desserts or snacks, dish up ice cream or custards topped with sauces or fruit, or try a milkshake (blend his/her favorite flavor of ProSure with ice cream and fresh fruits).
Modifying Food Consistency
If the person has difficulty swallowing, has a sore mouth or has lost teeth:
Puree vegetables, fruits and meats; add calories and nutrients using the suggestions above.
Make pudding with milk or ProSure.
Soften or moisten foods with thick liquids.