Ideas and Tips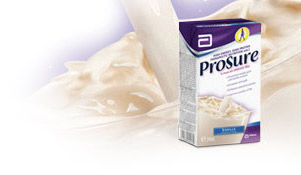 Here are some tips for making ProSure® part of your regular diet:
Shake each package vigorously before opening it
Drink ProSure® straight from the pack through a straw, or pour
ProSure® into a container that can be covered, and drink it through a straw
Try drinking ProSure chilled, or blended with ice cream
Try sipping ProSure® throughout the day, rather than drinking a full pack all at once
Add flavor extracts for increased variety—chocolate, almond, or maple
Add ProSure® to food, such as coffee, tea, cereal, soups, ice cream, and fruit
If possible, take your medications with ProSure®
Important Note:
ProSure® should be stored in the refrigerator once opened and should be discarded after 24 hours.
ProSure® can be frozen and thawed once, but should not be refrozen.
When warming ProSure®, it is best to only heat gently on medium heat. Don't use in recipes where prolonged heating is required. Boiling should be avoided, as the proteins in ProSure® may curdle.

Take ProSure® to go
ProSure® doesn't require refrigeration until it's opened. So it's smart to take it with you to maintain your 2 servings per day intake.
Allow at least 3 to 4 weeks to see progress when used at the recommended dose. Use under healthcare professional supervision. Try adding ProSure® to soft, moist foods such as soups, milk puddings, and custard to add variety. Mixing ProSure® with high acidity foods should be avoided.