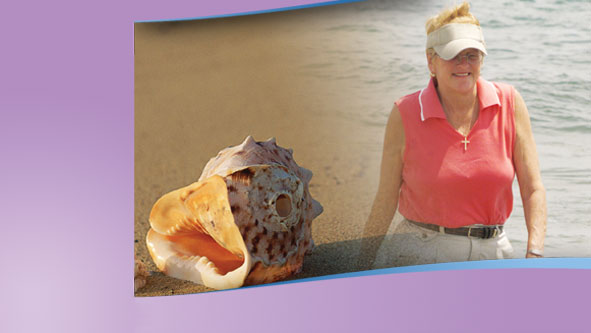 Patient Success - Eileen W.
Cancer took walking along the beach away from Eileen. ProSure gave it back.
"I had been losing weight and had no appetite at the time I was diagnosed with colorectal cancer. After my surgery and stay at the hospital, I was sent to a rehabilitation home because I did not have enough strength to walk up the stairs to my second floor condominium. Prior to my illness, I weighed about 61 kg (134 lbs). At the rehabilitation home, I was down to 50 kg (110 lbs). My doctor started me on ProSure, and 5 weeks later, I have gained back most of the weight I lost. I am now up to 59 kg (130 lbs). I continue to drink 2 servings of Banana ProSure each day, even through my radiation and chemo treatment periods. My appetite has returned and I feel more energetic. I am now able to eat my meals with enjoyment, and I'm able to enjoy my life.
Eileen W.
Colon Cancer Survivor