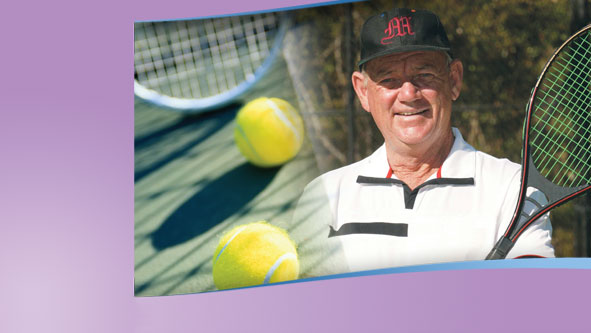 Patient Success - Glen H.
Cancer took tennis away from Glen. ProSure® gave it back.
When Glen H. underwent surgery for removal of a tumor in his bowel and part of his liver, he lost nearly 4.5 kg (10 lbs) along with his energy. His strength was so low that a short walk with his dog was all he could manage. His dietitian gave him ProSure® after a secondary surgery. He began taking 2 servings of ProSure daily as he started chemotherapy treatments. After taking ProSure for 3 months, he regained the lost weight and his energy. ProSure helped him get back to the things that mattered to him.
"It feels good to go to work. My kids say, 'Why do you keep working?' But I like to go to work. I want to get on with life and do the things I always do. Keeping my body active helps mentally too. I've had 2 surgeries and I'm on my second bout of chemotherapy, and I still have a pretty good quality of life. I get around most of the time except for the 2 to 3 days of chemo and I still pick up a casual game of tennis now and again."
Glen H.
Colon Cancer Survivor