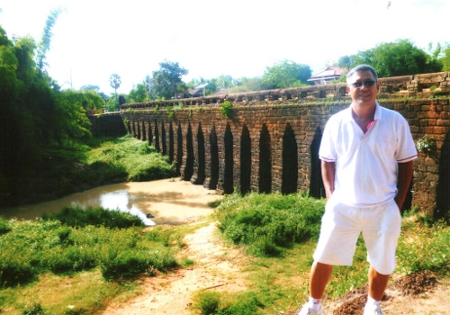 Secret to defeat cancer: Good Nutrition and Frequent Exercise
Nine years ago, I was diagnosed of cancer which is extremely rare in the world: the tumors simultaneously appeared in my digestive system, stomach and colon cancer of stage II . Although the treatment has been prolonging in the past eight years and it was a really hard and dark time for me and my family, to me it has been a great journey to explore myself, to outdo myself and to build a drive to conquer the malignant disease.
Depressed by the anorexia and losing weight…
The surgery to cut off a half of my colon came to me so swiftly that I was not able to pull myself together after discovering I got a deadly disease. At that time, I was almost collapsed in depression, my family were living in a dull atmosphere. I was too weak after the operation when continuously receiving nine cycles of chemotherapy which can only be described "horrible". Because of the side effects of the chemotherapy, I could not eat anything. Even the rice flavor would cause me vomiting. I lose more than 10 kgs, my mind was strongly shaking, my family were apprehensive but no one dared to call the name of the disease. They just silently stood behind to take care of and encourage me. As I was working in health service, I began to inquire the disease from my colleagues and found out the 4E Principle for cancer patients. It was Early (good nutrition right at the beginning), Enough + EPA (nutritional foods plus EPA, an Omega-3 fatty acid which is good for cancer patients), Easy (easily found and prepared foods), and Exercise (frequent exercising).
I understand that in order to practice a correct and adequate nutritional regimen on a regular basis, it is critical to have a strong will at first. As I have been playing sports since my youth, I took it as an advantageous fulcrum. Learning from Lance Armstrong, a professional cyclist who won the championship for several times in the most challenging and prestigious cycling competition - Tour de France - after a long treatment of testicle cancer with brain metastasis, I felt deeply encouraged with his winning story (both in cycling and cancer treatment) and started a scientific nutritional and exercising schedule.
… to the desire to outdo myself
With valuable encouragements from my family, friends and colleagues, I made up my mind to rise up and continued to exercise in tennis for three courses in a week, about two hours per course. Playing tennis burned and sweated me so much that I quickly felt hungry and thirsty. It also helped bringing back my appetite. This is very helpful for a cancer patient. But the most important thing is that exercising brought me a positive mind and a big hope and conviction to win the disease. Suppressing the inside weakness to throw powerful, energetic strikes on the playground was exactly the conquering of oneself that helped strengthening my will to face the "horrible" treatment ahead.
The regular exercise in tennis every week significantly improved my health. The anorexia was also washed away. I gradually gained my appetite and focused on foods of my own choice. My advice is that when we have a desire to enjoy a specific food, take it as much as possible! In my case, one day I liked the sour fruits like mango, tamarind, etc., the other day I liked sweets such as bee-honey, milk, etc…, some day I liked meats as pork, beef or fish… whatever I liked, I tried to eat as much as I can. To stimulate the appetite, I drank lots of juice and ate plenty of fruits. I broke my meals into smaller meals and frequently drank water with small sips.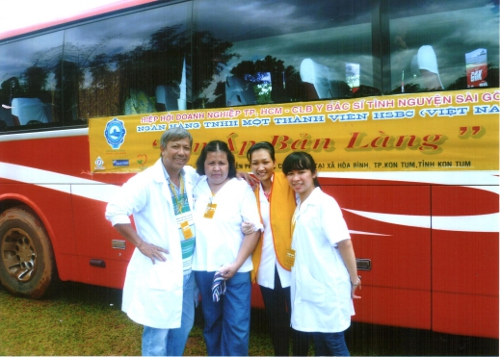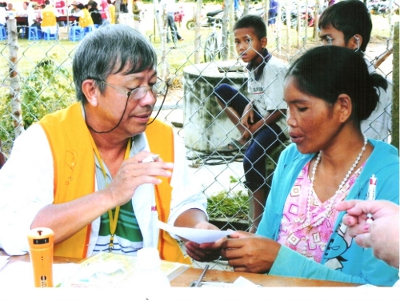 Dr. Trường Giang in a Volunteering Health Check-up Program to the Poor in a hinterland in August 2012.
In addition, I drank milk such as Prosure, cow milk, soya milk,, etc. to supplement enough nutrition. Prosure is especially good in maintaining my weight. It provides a great source of energy and EPA which is essential for cancer patients. I took a great care of it and usually kept it cool for drinking along the day. It was not easy to gain my original weight, but I could keep it from being exhausted during the period of chemotherapy. Thanks to that I successfully completed the treatment schedule and was cured from the colon cancer to move forward to cure the stomach cancer which was just discovered not longer before that.
The treatment has been prolonged for eight years. At the present time, I have no tumors in my body and I am getting back to my normal healthy life. Beside my daily work, I am participating in humanitarian check-up programs to the poor in off-the-beaten-track countryside. Winning the cancer makes my life more meaningful and I am more confident in myself. Overcoming the cancer is not only defeating a disease, it is the very battle to win myself.
Dr. Trường Giang (age 58, Ho Chi Minh City)